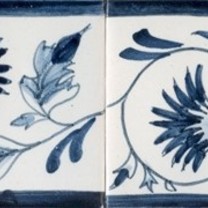 Original handcrafted Dutch border tiles, designed and painted in Friesland, the Netherlands.
Dutch border tiles are covered with white tin glaze. This recipe is being used since 1550 in the north of the Netherlands.

Border tiles are used for finishing tile walls. Border tiles are also used as a frame for tile panels. We offer a vast selection of border tiles, from traditional designs (1570-1880) to more contemporary border tiles. For questions or further information, please contact us.