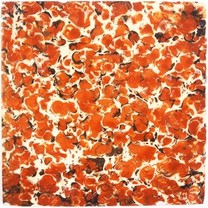 Turtle tiles are covered with white engobe glaze. The tiles vary, they have different nuances in colours which give these turtle tiles a unique appearance.

Frisian Tiles develops modern tiles with special colour recipes, (crackled) glazes, decoration techniques and tile shapes for architects, artists and interiour designers.

In consultation with the client Frisian Tiles can design and produce exclusive tiles and glazes. For questions or further information, please contact us.