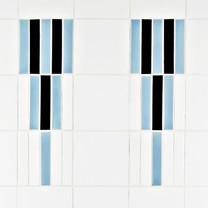 Art deco was a popular style movement from 1920 to 1939 that influenced the decorative and applied arts, in architecture, graphic, industrial and interior design, as well as fine arts and clothing fashion.

Art deco tiles can be supplied in different glazes and effect glazes. The standard tiles are available in two colours, ivory and cream.

We offer a number of standard Art deco patterns, but you can also put together your own patterns. For more information or questions, please contact us.