Decorated borders Art deco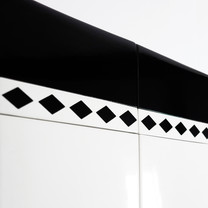 OUR DECORATED ART DECO TILES ARE TEMPORARILY NOT AVAILABLE BECAUSE OF THE RELOCATION OF OUR FACTORY.

Art deco was a popular style movement from 1920 to 1939 that influenced the decorative and applied arts, in architecture, graphic, industrial and interior design, as well as fine arts and clothing fashion.

These decorated Art deco border tiles are made by screen printing technique. The borders have the same width as the Art deco tiles and are therefore easy to combine. 

Decorated Art deco border tiles are available in two colours, ivory and cream. These borders are wonderfully applicable as an edge in the tiling in the hall, in the kitchen or in the bathroom.