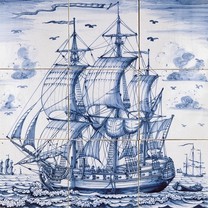 Original handcrafted Dutch Delft tile panels with classic scenes (1600-1900). Our traditional products are designed and painted in Friesland, the Netherlands.

An impression on more tiles is called a tile panel, mural or tile tableau. From the 17th century on, this is an important additive in the Dutch living culture. In all living spaces tile panels can be applied, mostly they are found in kitchens and fireplaces. Frisian Tiles has a broad program of traditional painting impressions and also modern designs.

It is possible to have your own design on a tile panel, for example a mural with your favorite classic scene. Also different sizes are possible.

For questions or further information, please contact us.